See also: List of Adventuring Riddles & Answers
Adventuring is an activity in which the player will venture through the landscape of a town using an avatar. Encounters revolve around riddles given by adventuring-exclusive NPCs where right answers yield points. They will occasionally offer a random gift instead. Rewards can be claimed after enough points have been gathered, many which are exclusive to adventuring.
The game begins with choosing an avatar, also known as sprites. There are four starting options for each class but you can unlock more avatars and color variations as you adventure. You can switch between avatars at any time. but you are restricted to avatars within your own class.
To see all purchasable sprite, visit the Adventuring Sprites page!
Adventuring Basics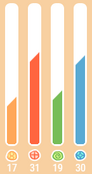 Note: Though adventuring has an idle mode, its window must be active for encounters to happen.
You can start adventuring as soon as you have chosen a sprite. In idle mode, the walking is automatic; you only have to interact with the screen during encounters. A jingle will play as they appear and the encounter bar will show how long it is left until the next encounter.
In active mode the player can jump over obstacles using the "up" key. After 15 encounters, the mode will need 1,5 hours to recharge. There is no penalty for failing to jump an obstacle except for a minor pause.
Encounters come in three variants: Riddles, gifts or captcha. Riddles are the most common. You answer using the symbols of the four stats:



The answer can be straight forward in connection to the icons, such as "tenacity" or "human" for the yellow icon, or more abstract, such as "fire" or "blood" for the red. If you answer correctly, you will gain a point to the corresponding energy bar to the left. You will keep the energy you earned during previous adventuring sessions. Once a bar reaches 50 points, a gift icon will appear above it. It can be clicked in order to receive a random reward. Gift encounters consists of accepting a gift while
The multiple meaning of the symbols can be hard to grasp, as they all stand for a plethora of different things. More on how to read the symbols can be seen further down under "Riddles".
The second type of encounter, gifts, are less common. An NPC will offer the player a treat. It can be accepted it by clicking the check mark, or reject it by clicking on the cross. Captcha encounters asks to confirm that the game is being played by a human by ticking specific boxes.
Riddles
For those who wants to locate the answer to a specific riddle quickly, see the List of Adventuring Riddles & Answers.
The answers to the riddles are not random. In Dappervolk, each icon represents a skill stat, also called a virtue, which is also associated with a class. For example, if the answer to a riddle would seem to be "knowledge," the right icon would be the blue one, since the corresponding Comprehension stat is about understanding. If the answer was an animal, the red icon might be correct, since it represents the Animal class. The answer might also be the shape or color of the icon itself, or something related to it.
Here are some possible meanings for each color:
Travel Gates
To travel to a new town when adventuring, you need to encounter a gate and walk through it. A gate will appear to the next town after it has been discovered through the main questline, gates will continue to randomly spawn until entered.
Settings and Icons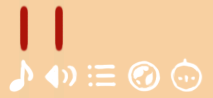 On the right side of the adventuring window, there are a series of icons. The first is a music note, which can be used to turn the background music on and off. The second is a speaker icon, used to toggle sound effects like the NPCs "voices". The red bars above them can be used to increase or decrease the volume. Third we have the bullet point icon, which pulls up a list of recent events in the large white space underneath. There, the user can see the NPCs they have encountered, if they answered a riddle correctly or not, gifts they received, as well as the energy type they earned for getting the riddle right. The fourth icon is the globe icon. It will change the scenery and riddles to fit different towns. The fifth and final icon is the character icon. It can be used to change the appearance of your sprite at any time.
Random Gifts
Certain adventuring-exclusive NPCs, such as Lix and Nica, may randomly appear and give the player a gift in the form of potatoes and/or an item. Like any other adventuring NPC, they will pass you by if you remain unresponsive for too long in active mode and you will not receive the gift. You can also decline.
These are some of the gifts you can receive, together with up to 500

:
Universal Items
Wrapped Candies
1
1
1
1
Other
Mixer Potion
Pet Recipe Scroll

Fantastical

Louise Hill - Silvie's Mine
Conecakes
1
1
1
1
Other
Snail Friends 3
Plump Turnip
Aviar Cove - Vaer Reef
Candied Shells
1
1
1
1
Louise Hill
Hill Rabbit
2
2
2
2
Three's Forest
Single Horn
2
2
2
2
Silvie's Mine
Capelet
2
2
2
2
Aviar Cove
Wings
2
2
2
2
Vaer Reef
Sea Serpent
2
2
2
2
Rewards
After collecting 50 points for any one bar in the energy meter, click on the giftbox on top of it to receive your prize. Currently, the prizes are as follows:
Adventuring NPCs
Trivia
Community content is available under
CC-BY-SA
unless otherwise noted.